The Prince of Wales has held talks with India's prime minister, but the meeting has been overshadowed by reports suggesting Charles benefited financially from lobbying on climate change.
The New Delhi meeting between Charles and Narendra Modi – the leader of the world's biggest democracy – had been billed as an important event ahead of a major gathering of Commonwealth leaders next year.
But reports by the BBC and the Guardian that Charles invested in an offshore carbon credit trading company, then lobbied for two climate change deals to be altered, has taken attention away from the event.
The prince is now facing calls for him to register all his interests to prevent secrecy surrounding his private estate.
India is the last leg of an 11-day trip, which has seen Charles and Camilla tour Singapore, Malaysia and Brunei.
Although the stop in the Commonwealth country is brief, just two days, the meeting with Mr Modi, 15 minutes of talks that were followed by a private dinner with a handful of guests, is significant.
Charles has spoken of his passion for the Commonwealth during the tour, and with the Commonwealth Heads of Government Meeting being held in London next April, the night of talks and dining will further strengthen UK-India relations ahead of the summit.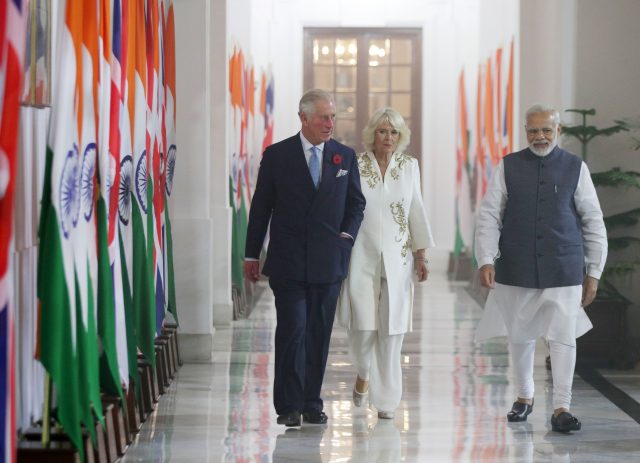 It is understood the two men discussed the common issues of the Commonwealth and sustainability.
The claims against Charles were prompted by the leaked Paradise Papers which revealed the prince's Duchy of Cornwall estate almost tripled the value of its shares in an offshore carbon credit trading company when they were sold in 2008 for £246,000.
After the shares had been purchased in 2007, Charles, an environmentalist for decades, gave speeches highlighting his views on the credits.
The prince wanted the Kyoto Protocol and the EU's Emissions Trading Scheme to include rainforest credits – traded by the firm – which were largely excluded from the major deals. Charles effectively wanted a financial mechanism to help safeguard the threatened habitats.
On Tuesday a spokesman for Clarence House denied that Charles had spoken out on the two deals in order to benefit financially.
"The prince has never chosen to speak out on a topic simply because of a company that the Duchy may have invested in," he said.
"In the case of climate change his views are well known, indeed he has been warning of the threat of global warming to our environment for over 30 years."
The spokesman added that carbon markets were just one of many strategies Charles had championed to try to slow the pace of climate change.